Veneal



Secondary element

Barcode
Veneal is a Water Codemon. Its secondary element is Fire.
Appearance
Edit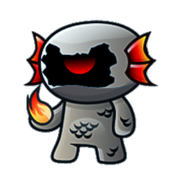 It looks similar to that of a anglerfish with a fireball as its lure.
Its Epic form gives it a body, as well as arms, and legs. In its right hand it holds the fireball that would normally be attached to its lure. It also has one single eye instead of two.