Vehize


Vehize is an Arcane Codemon. It is half Wind and half Water. It can be Summoned by sacrificing a Hipize and a Rinvem.
Appearance
Edit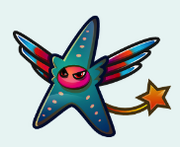 Vehize is a starfish with wings replacing two of its limbs and a face in the middle.
In its Epic form, it gains a tail with a star on the end in addition to color alterations.