Vefur



Secondary element

Barcode
Vefur is a Water Codemon. Its secondary element is Earth.
Appearance
Edit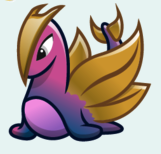 It seems to resemble an aquatic mammal (such as a seal) except that it has leaves protruding from its back.
Its Epic form adds a tail with a forked tip and a type of armored plate over its face.