Ondiri



Secondary element

Barcode
Ondiri is a Thunder Codemon. Its secondary element is Swamp.
Appearance
Edit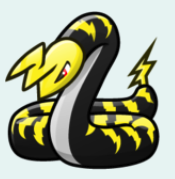 Ondiri is a snake with a lightning bolt on its head and the tip of its tail.
Its Epic form changes the bolt on its head to point forward rather than upward and changes the pattern on its back to resemble lightning bolts.