Oisor



Secondary element

Barcode
Oisor is an Earth Codemon. Its secondary element is Fire.
Appearance
Edit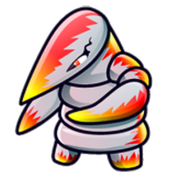 It resembles a golem or mole of sorts with flame patterns on its nose and arms.
Its Epic form extends the flame patterns up its face, across his arms, and onto his feet and body as well.