Lecea


Lecea is an Arcane Codemon. It is half Heaven and half Fire. It can be Summoned by sacrificing a Kaleti and a Lorcan.
Appearance
Edit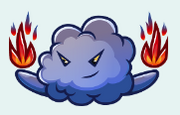 Lecea is a cloud with two arms. Each arm has a flame on the end.
Its Epic form gives it a darker, storm-cloud color. Its flames also get larger.